Today's plan sponsors understand the benefit to offering a variety of fund choices in their investment lineup, allowing participants to diversify their 401(k) investments across a variety of asset classes. However, this still doesn't solve one of the biggest concerns we hear from participants, who may be generally unsure which allocation is best for them at different points in their career. It's easy to get overwhelmed. Enter: Target Date Funds, or TDFs. TDFs represent a method of investing using a dynamic, managed strategy, which varies the asset allocation mixed in each fund based on a projected retirement date. But, how do they work?
Target Date Funds typically provide exposure to riskier assets (such as equities) in the early years of one's working life, when there is a longer timeline before retirement and thus a higher capacity to absorb risk. As time progresses, and an investor moves closer toward retirement, the fund's asset mix becomes increasingly more conservative, with less exposure to stocks and a heavier weight in bonds and cash.  TDF managers utilize what is called a Glide Path, such as the one in the chart below, which allows them to vary the speed and level at which they de-risk the portfolio. This represents the dynamic or changing aspect that characterizes Target Date Funds.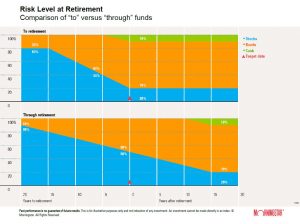 Each Target Date Fund can be broadly diversified, ranging from large cap equities to medium and small.  Fund managers may also use a range of styles—for example, from deep value to high growth.  This broad diversification is also able to span across a range of domestic and international exposure, and also includes debt exposure sleeve of the fund by ranging its exposure to debt—from high quality to high yield—again, in both foreign and domestic bonds.
The basic design of this type of fund is meant as a lifelong single solution to managing an investor's risk profile as you age and move to retirement.
Just like to old saying about data in vs. outcomes, the same is true of Target Date Funds.  Looking closely at the individual fund components has a direct bearing on results.  Not all Target Date Funds use the same glide path, so understanding what your Target Date Fund uses is the most important element of all in evaluating this choice.